Hydrafacials & LED Therapy in Arlington & Colleyville
HydraFacial uses a patented technology to cleanse, extract, and hydrate your skin. HydraFacial super serums are made with nourishing ingredients that create an instantly gratifying glow in just 3 steps – Cleanse + Peel, Extract + Hydrate, Fuse + Protect.
It is a non-invasive, multistep treatment that combines the benefits of next level hydradermabrasion, a chemical peel, automated painless extractions (no pinching!) and a special delivery of Antioxidants, Hyaluronic Acid and Peptides. Ideally, you can come in for a treatment once every 2 weeks.
Once your skin is in a desirable place, once a month is recommended for maintenance. The HydraFacial will leave you loving your skin!
Cleanse + Peel - Uncover a new layer of skin with gentle exfoliation and relaxing resurfacing.
Extract + Hydrate - Remove debris from pores with painless suction. Nourish with intense moisturizers that quench skin.
Fuse + Protect - Saturate the skin's surface with antioxidants and peptides to maximize your glo.
Call us at (817) 587-4300 or contact us online to learn more about Colleyville & Arlington hydrafacials & LED therapy.
Types of Hydrafacials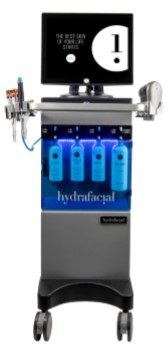 Different types of Hydracials we offer include the following:
Signature HydraFacial – This is a 30-minute procedure and significantly exfoliates extracts and cleanses the skin with super Sams that contain ingredients such as peptides, antioxidants, and hyaluronic acid. It could be using all skin types and produces maximum hydration to boost the appearance of your skin.
Deluxe HydraFacial – The deluxe hydrafacial is 1 hour (60-minutes) long and dresses specific skin issues in combination with LED light therapy. We will recommend this treatment for patients who want an extra boost.
Platinum HydraFacial – Our longest hydra facial takes about 75 minutes and begins with a detox process involving lymphatic drainage. You can also boost your skin for specific skin concerns and can end with LED light therapy for ultimate anti-aging benefits.
LED Therapy
LED lights have been in use for over 50 years, but more recently have been incorporated into the MedSpa and skincare industry.
There are several different colors of lights – each having a different wavelength (measured in nanometers) and targeting different skin issues.
Blue: 400-470 nm – Acne
Green: 470-50 nm – Hyperpigmentation
Red: 630 – 700 nm – Fine lines and wrinkles
Amber: 600-615 nm – Builds Collagen
In general, the longer the wavelength, the deeper the penetration into tissues.
This is an excellent add-on to use during or after a facial and is very safe and effective.
There are many benefits to LED therapy, including:
To schedule an appointment, give Glo & Glam MedSpa & Skin Care a call at (817) 587-4300 or contact us online – we will be happy to assist you.
Other Glam Services

Skincare Products
Glowing Brighter
Why We're Your First Choice
Highly Trained & Experienced Medical Providers & Educators

Latest & Greatest Technology & Techniques

Medical Grade & Customizable Skin Care Solutions

Focused on Experience Through Quality Concierge Service